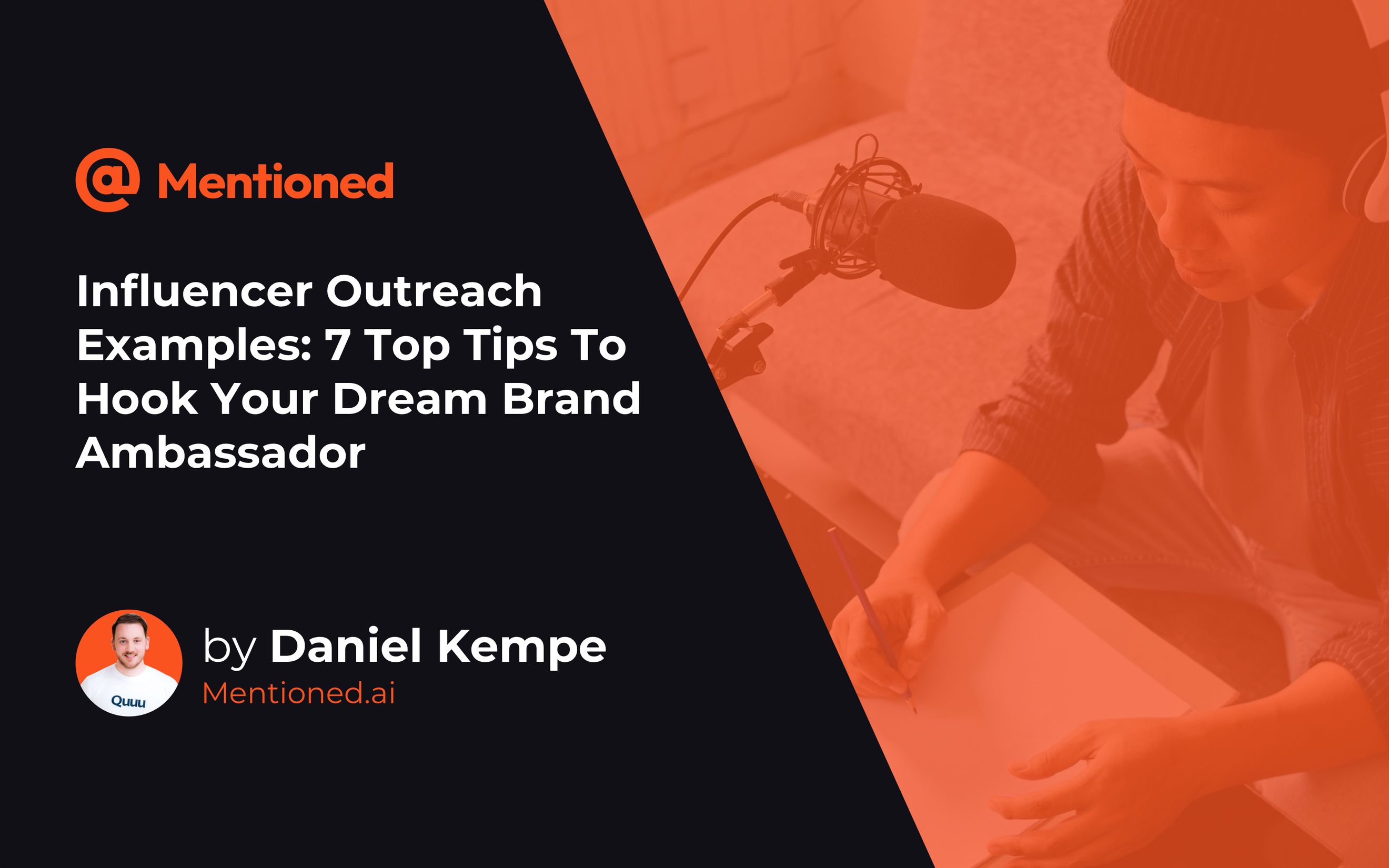 Influencer Outreach Examples: 7 Top Tips To Hook Your Dream Brand Ambassador
Find several influencer outreach examples and top tips to net you the brand ambassador of your dreams.
Let's roll out the red carpet, dress in the latest must-have fashion, and pose for the paparazzi because we are talking about the glamorous world of influencers.
It is time to reinvigorate and modernize your outreach strategy to match the new world of the celebrity. This may sound a bit complicated but to have the best chance at finding the most relevant brand endorsement for your company, it is essential. Do not fret; with the following influencer outreach examples, we will explore the best methods of securing the right one for you.
The importance of great influencer outreach
In digital marketing, the right influencers are the key to a successful marketing strategy and can launch a new product into the stratosphere. But how do you get these insanely busy people to take notice of little ol' you? How do you nab that collab? Well, that is where an influencer outreach campaign is a necessity.
The following chart indicates that 80% of marketers believe that influencer marketing is effective, whilst a measly 5% find it ineffective.
Some companies are under the impression that influencer outreach needs to be professional, business-like, and formal to attract the particular person that takes your fancy. But times have changed. Facebook, TikTok, Instagram, LinkedIn, and other social media platforms are now the chosen domains of the potential influencers and their audiences.
Below is an infographic that highlights the continuing rise in active users on prominent social media platforms.
As seen in the following chart, the age of an influencer on the main social media platforms is clearly, on average, between 18-34.
These social media influencers are often chaotic, fun, youthful, trendy, and down to earth. Yes, email is still the best means to reach out, but it needs to have a massive splash of color to stand out (think more shades of Berry Smoothie than Dead Salmon).
What is an influencer?

In a nutshell, influencers influence. That seems rather obvious, but it is a simple truth. This is not a newfound, modern idea, despite the word only being added to the dictionary in 2019.
Since the dawn of man, we have had leaders who have influenced our habits and behaviors. The first caveman to discover fire was indeed a bit of a trendsetter. Even Albert Einstein can be seen as an influencer. However, we don't think he would have fully embraced The Smeeze or The CitiRokk.
So, there we are. From incredible historical leaders to terrible dictators, the world has been full of influencers since the dawn of time. But it was the marketable nature of the influencer that arose much later. The first celebrity endorsement deal was struck in 1984 between Michael Jordan and Nike with the creation of the AirJordan sneakers.
This deal was a slam dunk and netted an incredible $126 million in sales in the first year alone, cementing the power of celebrity as a marketing tool. And with that, influencer marketing was born.
The (re)definition of an influencer

Check out the list of 8 names below:
Michelle Obama
Eva Diana Kidisyuk
Chris Hemsworth
Felix Arvid Ulf Kjellberg
Lionel Messi
Khabane Lane
Taylor Swift
Eleonora Pons Maronese
Some of these names will be familiar fare. In the mix, there is a first lady, a music star, a famous footballer, and even the God of thunder himself. All of these are obvious traditional influencers in our modern world.
However, believe it or not, the other names on this list are just as influential. Eva Diana Kidisyuk, better known as Diana, has over 100 million YouTube subscribers and earns $25 million from ad revenue each year. She is 8 years old. What were you doing at that age? I, for one, was watching episodes of Scooby Doo, not running a media empire.

Then there is Khaby Lame who is the most followed user on TikTok with 142 million followers. His content consists of silent ten-second shorts that mock life hacks. He has now secured a deal to become Hugo Boss' global brand ambassador.
So, we stand at the dawn of the social media influencer. But why? There are a few theories:
Dwindling attention spans: Our attention spans are…where was I? Oh yeah, 8 seconds. Our attention spans are 8 seconds. So, the idea of settling down to watch a three-hour blockbuster seems daunting. Enter snackable, bitesize content such as TikTok, Shorts, and Stories.
2. The true experts: A celebrity can be slapped on the front of any product to promote it without any real expertise. In contrast, social influencers tend to work within a niche that comes with given expertise in the field.
How often do you really think Katy Perry builds Lego?
3. The desire for relatability: Consumers now crave authenticity over glitz and glam. We want to see our celebrities tackle everyday issues, tell embarrassing stories, make mistakes and be down to earth.
The chart below shows Gen Z's attitudes toward authenticity and their negative beliefs about 'perfection culture'.
4. Interaction with your idol: The influencer is a lot more interactive with fans than the celeb. Celebrities may reluctantly sign the odd autograph or sit down for a quick interview. In contrast, influencers must have a two-way relationship with their target audience.
To be successful, Twitch streamers need to make constant conversation with their audience throughout their live streams by replying to comments and acknowledging donations.
Who is the right social media influencer for me?
That is the million-dollar question. The choice can seem overwhelming. From bloggers to TikTokers, which influencer partnership do you choose? After all, the right person can be the difference between the success and failure of an influencer marketing campaign. Thankfully, there are four distinct categories of influencers to help make that decision a little easier.
The below pyramid shows the information in the above table in a more streamlined and condense means for quick reference.
With the pros and cons of these four types of social media influencer on display, you may have noticed that you don't need to necessarily attract the biggest, most expensive mega influencer around. "Phew!" your wallet cries with a sigh of relief.
However, when selecting the right influencer for you, instead, think about the following questions:
Who are the relevant influencers to the niche of your business?
Does the influencer's audience align with yours?
What are your marketing goals?
What is your realistic budget for influencer marketing?
Does the influencer match your core values?
What type of content resonates the best with your demographic?
What is the influencer's engagement rate?
Does the influencer come across as authentic?
To summarize, when selecting an influencer it is more important for them to be relevant to your brand and demographic than the hottest celebrity around.
How to reach out to an influencer?

Picture this for a moment: it is the most awkward time of your life, high school. You have fallen for the most incredible girl. She matches your values, has the same interests, is really engaging, and as an added bonus is guaranteed to boost your popularity at school. Let's call her Indie Fluensure.
Reaching out to the perfectly matched influencer for your brand is comparable to that time you asked out your high school sweetheart. It can be nerve-racking and full of potential hazards. That is why a concrete outreach plan is a must. The following examples of influencer outreach will show you how to woo that particular social media match of your dreams.
The art of an influencer outreach message

By far the most important weapon in your influencer marketing arsenal is email outreach.
The top tip for writing an outreach email is to make them hot, not cold. Send personalized emails flowing with personality, charisma, and charm. You want to woo that influencer, not bore them with blandness.
There are many influencer outreach email templates online but most fall into the pitfall of being as exciting as drywall. In fact, we don't even want to provide you with a template. I know, we are mean.
But to be honest, that would be unbeneficial, as the key to success with outreach messages is personality. Instead, we offer the below examples and some helpful tips which will teach you how to write that hot email, guaranteed to up your response rate.
Before we begin, it is important to remember that a lot of influencers nowadays work on Instagram and Facebook, where the easiest means of contact is a direct message.
The following tips still apply to Instagram influencers and Facebook bloggers, but remember that the competition for their precious attention is much higher on these platforms. This is due in part to fans being able to also message their influential heroes (further crowding their inboxes.) So, our advice with these platforms is to double down on personality and follow these tips to a tee.
The 7 top tips for outreach messages

So, now we have built up the courage to ask out our dream date…I mean influencer, let's look at a few crucial tips to guarantee we are writing the best influencer outreach message:
Write a catchy subject line
Do your research
Make it informal yet professional
Share common interests
Introduce yourself
Provide a perk
Write a follow-up email
1. Make a statement with the subject line

As it turns out, the open rate of emails is heavily influenced by the subject line. 47% of recipients will decide whether to open an email depending on the subject line alone.
So, make it clear, succinct, and eye-catching like the example above. After all, no social media influencer wants to read 'collaboration opportunity' as an email subject for what feels like the billionth time in a day.
It may sound strange, but even adding a cheeky emoji in the subject line of an influencer collaboration email has been proven to increase response rates, as shown in the below infographic. That cute adorable dog 🐶 emoji might be the difference in sealing your dream deal.
2. Do your research
Take a deep dive into the influencer's social media presence. Find out about their life, personality, interests, recent posts, achievements, and beliefs.


Take note and reference this research in the outreach message. Have they recently climbed Mount Everest? Mention it. Have they done some incredible charity work? Mention it. Have they broken up with their fiance in a very public manner? Yeah, maybe don't mention that.
This will allow you to create a personalized flair that will connect with the particular influencer on a much more intimate level. You don't want them to feel like a number in an extensive list of outreach contacts. (Even if they are.)
The below statistics show that personalization is crucial for an outreach message, with personalized emails reaching a 20.3% response rate.

3. Make it informal yet professional
Make the outreach message sound informal yet professional. This can be a hard balance to strike. But don't throw in too much business jargon. If you start waffling on about sales revenues and business models you are likely to make the recipient switch off completely.
You may have pages upon pages about how you plan to integrate the influencer into your marketing campaign. But for now, keep it brief. The main body of the message should be simply what you want from them and what they can expect from you in return. No fluff or faff.
The above example talks to them like they are a work friend. Create an energetic, friendly, and conversational tone with knowledgeable insights about their niche. Starting a message with a 'hey' or 'hi' instead of 'to' or 'dear' is a fantastic start. Just remember to remain professional, and don't be over-friendly or overshare.
4. Highlight shared interests
Find some common ground with the influencer. Make sure to clearly highlight any shared, interests or values you may have in regard to their niche. For instance, if they run a successful casserole blog, tell them about the most recent time you tried out their recipe. It really is that simple.

A shared interest is one of the best ways to show the worth of a potential collaboration. In the above example, the blogger's love of surfing is perfectly aligned with the brand's own passion. It just makes logical sense to collaborate at this point.
It also shows that the brand's intention is pure. This proposition is not just coming from a place of corporate greed but rather a genuine interest. This is a huge check mark for a potential influencer. This will retain both their integrity and trustworthiness in the eyes of their demographic.
5. Introduce yourself

Don't be shy, say hello. Introduce yourself confidently and charismatically. Tell them who you are and what you represent. This might seem obvious, but don't forget to include your company name too. It happens a lot.

An informal introduction creates a more personalized type of communication. As a bonus, it also means the influencer can do their own research on your brand name. Hey, they need to make sure you are a right fit too.
6. Always provide a perk

Unfortunately, nothing in the world is free. And that is true for social media influencers too. They are unlikely to craft a guest post for you or write a rave product review for free.
Depending on your budget, you could offer a flat-out financial incentive.  But we don't all have a bottomless wallet.
So, thankfully there are some handy alternatives that also boost brand awareness:
Free samples: Offer the influencer free samples of your product to review.
Affiliate program: Suggest a commission-based plan for each new customer that is referred to your brand.
Free product giveaway: Provide a product for the influencer to use in a free giveaway for their audience.
Invitation to an event: Are you hosting a big promotional event? Ask the influencer to attend.
Gift card: Give the influencer a gift card to spend on your products and brand.
However, it is important to remember to always include what you expect in return for this incentive. This could be a guest post, brand promotion, or a certain amount of mentions of your product name.
7. Don't forget the follow-up email or message

Oh dear, you haven't heard from that influencer you messaged a few days ago about collaborating with your brand. I am sorry to hear that, it can feel incredibly demoralizing. There is always the option of sending a follow-up message. But you don't want to be accused of nagging someone who clearly is not interested. Might as well cut your losses and move on to the next social media influencer. Wrong!
Unfortunately, 70% of unanswered email chains end there after the first email is unread. However, under examination, the response rate to that initial outreach email is 30%. The second email is 21% and the third is 18%. The truth is, the more messages you send the more opportunities you create to receive a response.  


The purr-fect example: cat blogger

Let's blend all these top tips from these influencer outreach examples into one fantastic email:
Don't face influencer outreach alone
Write an email. Send. Write an email. Send. Write an email. Send. And so on and so on. Influencer outreach can feel rather monotonous. But Mentioned is what automated should be. The process of building a relationship on social media with a target influencer, sliding into their DMs, and drafting emails to all their known associates in the hopes that you'll eventually grab their undivided attention, is no small task.
However, with Mentioned, you get a speedy automated process that gives you the perfect excuse to get right through to them in seconds. And let's face it, it's nice to know when someone has covered you in their recent work so you have the option to read, share, or even contribute further - so it's a nice email to receive for an influencer.
Mentioned will scan your blog posts/articles for people and companies that you've mentioned, then send automated email campaigns letting them know. This helps to build brand awareness, industry relationships and may even lead to social shares and backlinks!
With your permission, Mentioned will then initiate your outreach campaign—sending your pre-composed email to all the chosen contacts mentioned in your post.
So, gone are the days of spending your whole working day laboriously sending emails one by one to hundreds of potential influencers. Mentioned condenses this stressful, difficult and challenging process into an automated miracle.
Conclusion

So, here we are. Wow, what a journey. I need a break. But first, what have we learned? Well, we have traveled through time to learn the history of the influencer and the subsequent redefinition of the term. We have examined the pros and cons of each type of influencer and which would be the best for your brand awareness.
What is more, we have studied a few fantastic examples of influencer outreach messages and have taken away some incredibly helpful tips.
Finally, we looked at how influencer marketing platforms such as Mentioned.ai can save a lot of hassle, time, and stress when launching an influencer marketing campaign.
With all this said, you now have all the tips and tricks needed to capture the attention of that elusive, ideal partnership. So, what are you waiting for? Go nab that collab of your dreams.
Do you have any top tips for email outreach? How do you find the perfect influencer? Have you had experience using influencer outreach platforms? Comment below, we would love to hear your thoughts.

Join the newsletter to receive the latest updates in your inbox.