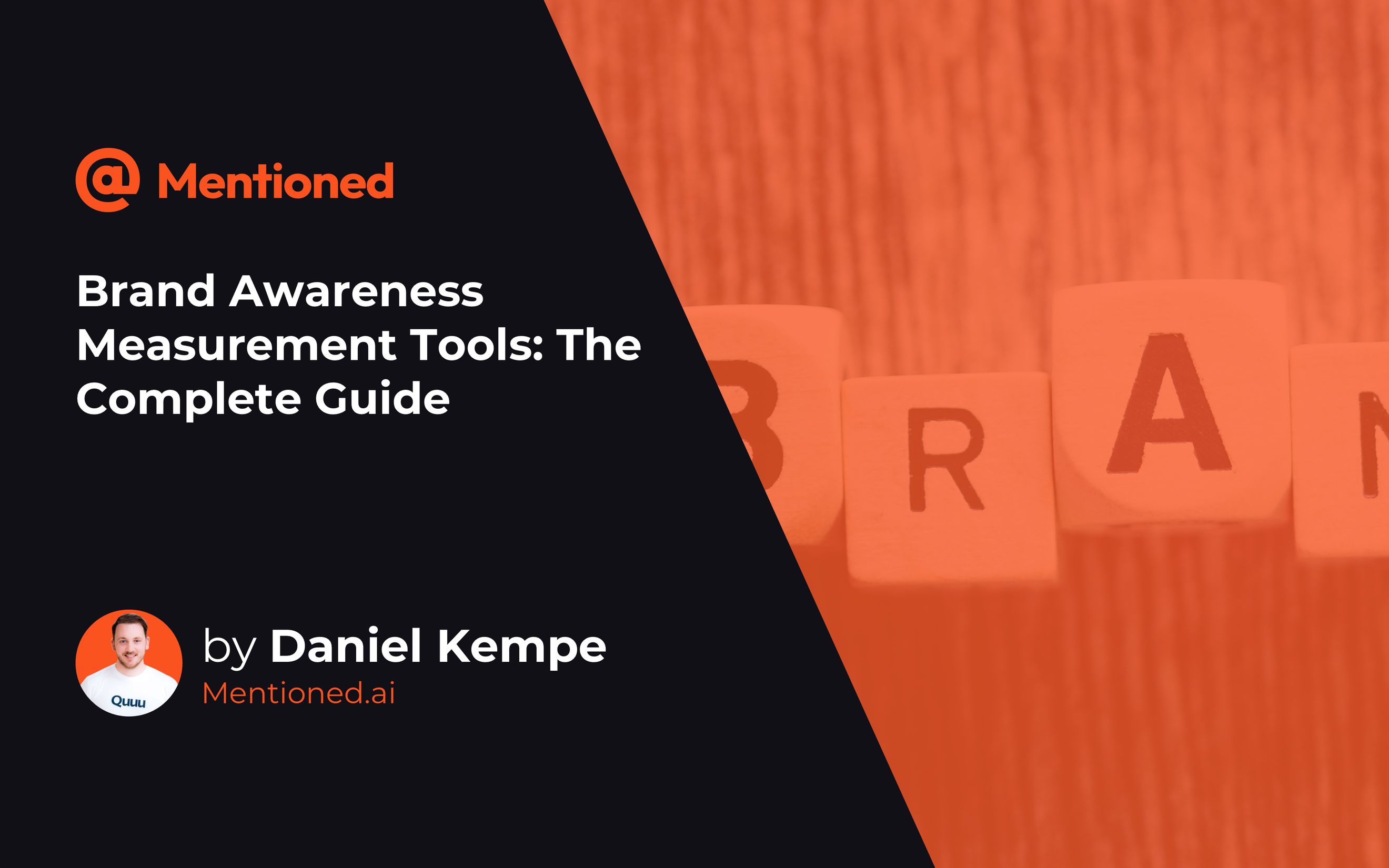 Brand Awareness Measurement Tools: The Complete Guide
From social media analysis to website traffic metrics, our ultimate guide on brand awareness measurement tools will help get your brand out there.
Brand awareness is at the center of a successful company. But how do you know if you're getting it right? It's no longer enough just to check your followers on social media every now and then. You'll need to measure brand awareness to get your brand name out there and keep it out there.
Doing this allows you to constantly adapt your marketing campaigns based on your consumer's behaviour. Without measuring, you're guessing. And I'm sure by now you know you can't build a successful business off guesswork.
Don't worry. We know this sounds like a lot of work. Maybe even enough to hire a new staff member to focus solely on your brand's image. And it would be without the wealth of incredible tools to help you out. We'll guide you through our favourite brand awareness measurement tools to help get you started. But first, let's look at the basics.
What is brand awareness, and why do you need to measure it?
When you think of Nike, the famous sporting brand, what immediately comes after it? For me, and for many of us at Mentioned, it's always followed by an afterthought of "Just Do It". Their incredibly successful brand awareness campaigns mean that we recall their slogan without wanting to or meaning to. Now, that's a memorable brand.
And this is what brand awareness is all about. You want to be recognizable, well-known and trusted. David Brier said, "If you don't give the market the story to talk about, they'll define your brand's story for you." To create your story, you need to have a strong brand identity. In order to achieve this, you need to focus on every single part of your marketing strategy and ensure they align to create a coherent whole. This includes:
Logo
Slogan/tagline
Brand name
Tone of voice
Types of content
Website design
Brand story
Advertisement
Personality

You need to figure out whether your brand awareness strategy is successful. If it isn't, and you're not aware of this, it's a waste of time, money, and effort. By measuring brand recognition and brand recall, you'll get a good idea of whether it's working.
Now, these are just the big ones. To get an accurate picture, you'll want to measure everything you possibly can. Here are just some of the aspects you can measure:
Mentions of your brand (including hashtags)
Direct traffic to your website
Referral traffic
New customers
Number of times people click through to your website from advertisements
Number of people entering your URL into search engines
How many times people recall your brand in surveys
Increase or decrease in following on social media platforms

There is a lot. But don't panic. There are hundreds of tools out there to help save time while keeping an eye on your marketing efforts and these key brand awareness metrics. So, let's dive in.

Website traffic measurement tools
According to Baidhurya Mani, Blogger and Agency Owner of Sell Courses Online, "You should set up your website analytics in a way so you can track your customers' entire journey." You don't just want to know how many visitors you get in a month. You need in-depth insight.

How many branded searches (a query in a search engine that includes your company name) do you receive? What's the search volume of your brand? How long are visitors spending on your site? A great place to start when assessing brand awareness is using analytics tools to monitor this kind of website traffic.
Anything Google is your friend. And their analytics can give you incredible insight into the people visiting your website. The traffic source is one of the main measurements you'll want to focus on for brand awareness. What brought your customers to your website?
From here, you'll see how many people clicked through from email marketing campaigns, adverts, or organic search engine results. This lets you know whether people are typing your company name into Google search (and are already aware of the brand), signed up for email marketing (already subscribed to your company), or learning about your brand through advertisements.
You'll also be able to view customers' behaviour once on your website in the Analytics report. If people make it through to the confirmation page of booking or paying for a service, you know your brand awareness is somewhat successful. They trust you. If people click through and spend a short time on your website before exiting, you know there's something to work on.
Backlinks are a great benchmark for brand awareness. This is when a website links back to your website and its content. It's essentially a brand mention. The more backlinks you have, the higher your Google ranking and the more brand awareness in the industry.
For example, if you're an independent news outlet and the BBC has linked to an article of yours, this will tell people that you are a trustworthy and credible brand. So you need to keep an eye on your backlinks in order to measure brand awareness.
Luckily, Semrush can do this for you. They can tell you how many websites link to your URL and who they are. This means you can scroll through and see how your brand is being mentioned.

Positive or negative? Who by? You'll soon build a clear image of how your brand is viewed in the industry.

Alongside this, they'll also tell you your bounce rate, total visits, visit duration, and the number of page views. You can also view all of this information for your competitors, which, needless to say, is incredibly helpful when comparing brand awareness efforts.
Social listening tools
Jeff Bullus says, "Social listening metrics are the metrics that get you as close to measuring brand awareness as possible." And this is true. Being a good listener will get you far in life. And this also applies to your brand. Social listening refers to monitoring your brand mentions across social platforms. Who's talking about you? What are they saying? How many people are talking about you? Answering these questions should be a key element of measuring brand awareness.
SproutSocial does it all. And it presents it to you in an easy-to-navigate platform. Not only will it provide an analysis of your mentions, but it'll let you know your competitors' too. Alongside this, it pulls together all trending topics and hashtags so you can make sure your digital marketing strategy remains relevant.
As you can see, it breaks down just about everything. It even provides a pie chart to visualize your share of voice in the industry compared to your competitors. This makes it super easy to track your progress, the reaction to any changes you make for your brand, and will give you an idea of the market share in your industry.
By using SproutSocial, you'll gain a deeper understanding of your target audience's demographic, which can inform your next content marketing and social media marketing campaign.
A lovely feature of Hootsuite is the ability to respond to your mentions. You want your brand to be viewed as human. And what better way than engaging and responding to your followers in real-time?
You can combine all your social channels into Hootsuite's interface to keep track of mentions, messages, and comments. Alongside this, you can even track influencers that may be relevant to your company and share them with your colleagues.
A great feature of Hootsuite is its ability to notify you if you have sudden engagement peaks. In our viral world, this is important. You don't want to be the last to know your brand is being mocked on TikTok.
Customer satisfaction measurement tools
So, your marketing strategy is going well, and you've got regular customers. But what did they think of the service? Are they telling their friends how quick and simple it was, or are they warning everyone away from you?
Just because you have customers doesn't always mean your brand image is squeaky clean. Look at Amazon, for example. The majority of mentions they get are probably people trying to persuade others not to use their service. Yet they get millions of customers every day.
As Jeff Bezos says, "Your most unhappy customers are your greatest source of learning."
Brand awareness surveys are nuggets of insightful gold. If you don't know whether your customers are happy, ask them! This can be future customers or past customers; both are important.
With 17 million active users worldwide, SurveyMonkey is a tool you can trust. They are a company that helps you build and distribute thousands of surveys from professionally designed templates and collect the data afterwards in an easy-to-understand format.
Depending on your brand, you can choose which survey format suits you best. From standard surveys to quizzes and polls. These can be distributed on social media platforms, through email marketing campaigns, or on your website.
HotJar does it all. It's a one-stop shop for understanding customers' behaviour and feelings towards your brand. They have so many cool features. One that stands out is actual recordings of people interacting on your website. You can view a customer's journey on your site, see what they ignore, what they click on, and what makes them exit the website. Reviewing this kind of data lets you know what you need to improve.
HotJar also allows you to set up multiple feedback options on your web pages about your brand's customer experience. This can be small surveys or simple yes or no questions. You may recall having these popping up occasionally on various websites. Often it's a simple "Was this useful?" This alerts the company to what's working for the brand and what's not.

With these insights into customer behaviour and your brand, it'll soon become clear if you need to build brand awareness.
Social media measurement tools
We all know social media is indispensable when building brand awareness. In fact, 80% of social marketers have said increasing brand awareness is their biggest goal on social media. So, let's have a look at some tools that will help you measure your social media reach.
Want to get involved with influencer marketing? Almost three-quarters of US marketers use this technique, and depending on your target audience, it can be very effective. According to Civic Science, 14% of 18-24-year-olds have purchased something an influencer promoted just in the last 6 months. It may not seem like a huge statistic, but it's not just about sales. It's about getting your brand out there.
TapInfluence has made using influencer marketing a breeze. Once it has helped you find the perfect influencer for your brand (through thorough data analysis of keyword searches, audience data and insights, and visual searches) it allows you to measure the performance of each campaign in expert detail. Here's what it can tell you:
Conversions
ROI
Reach
Views
Total social value
Click traffic tracking
Follower count
Engagement
You can download these metrics summarized in a report for every campaign you launch. This means you can easily compare and contrast what's popular and what's not.

You can use HubSpot as a social media management tool, which is super helpful. But we're interested in how they can help you measure brand awareness. By integrating with your CRM, you can see exactly how many leads, customers, and visits your social media generates.
The detailed reports HubSpot produce mean you can compare different marketing campaigns' performance according to their platform and publishing times. By using their tool, you'll get a comprehensive overview of your brand awareness on social media.
Conclusion
So there you have it. A tool for every aspect of brand awareness you should measure. Brand tracking has never been so easy.
There's a lot to think about, but remember that tools like HubSpot and SproutSocial can measure every element in one simple platform rather than using lots of different tools for all your different channels.
So now there's no excuse! Take a look at the different pricing options each tool offers and start planning how you're going to measure brand awareness.
Have you used a brand awareness measurement tool that's worked well? Let us know in the comments so our readers can try it out!
Join the newsletter to receive the latest updates in your inbox.