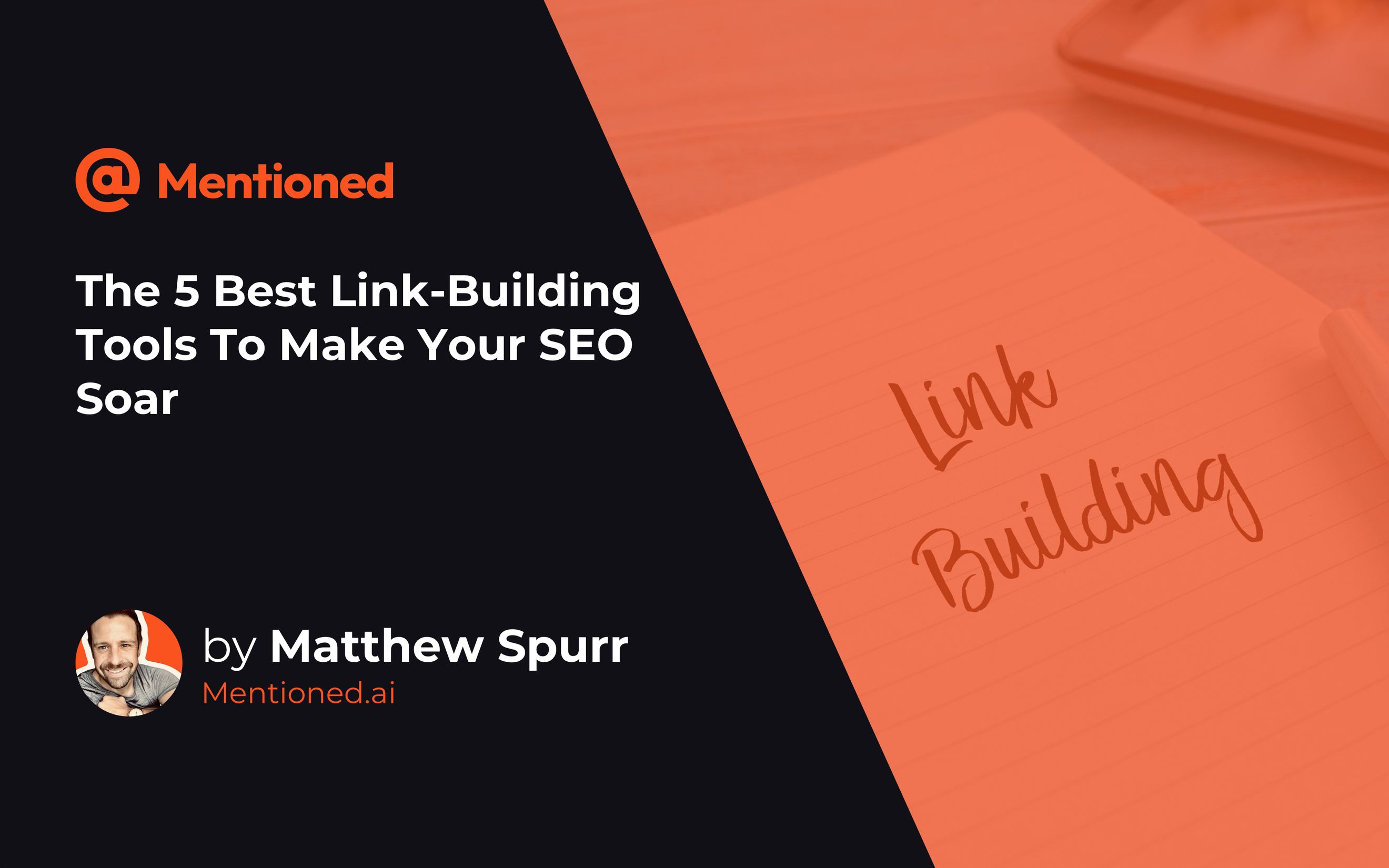 The 5 Best Link-Building Tools To Make Your SEO Soar
5 link-building tools guaranteed to gain you backlinks and boost your SEO rankings in 2023.
Search engine optimization (SEO). Three words or letters that are essential to success. You must be ranked high in search engines to attract potential customers and clients. 90% of users will click a link from the first page results.
The outlook for the websites on page 18 of a Google Search looks rather bleak, lonely, and underused. This is not where we want to be. We want to bathe in the sunlight at the summit of the SEO mountain, not dwell in the deep, dark caverns like some kind of Google goblin.
More often than not, scaling to the top of the SERP pages feels like an almost impossible task. However, SEO techniques are the best means to make this immense upward hike doable.  And one of the most lucrative is backlinks.  
The link-building process is complicated and filled with numerous caveats and pitfalls. But, as any mountain climber would tell you, you just need the right tools.  So, with this in mind, let us show some of the best link-building tools.

Hunter.io
Linkody
BuzzStream
Ahrefs
Mentioned.ai
What is a backlink?
So, what is a backlink? At its core, it is an external link that directs to your content.
For instance, if you write a blog about the best zoos in and around London, we would likely backlink ZSL London Zoo at some point. Look at it all red and important.
The section in red is called anchor text. It is the words we choose to summarize the relevant content of an entire link.
So, above, we have created a backlink to the London zoo. We have recommended this website to our users via a link as an external website.  The recommendation is that this is a fantastic source for further information on the chosen topic.

Any digital marketing specialist will tell you that Google's algorithm is insatiable for these recommendations. It craves them. As it is tucked into bed at night, it most likely screams that it is hungry for more backlinks like a petulant child.
The best means to climb the search engine rankings is to appease the algorithm's hunger for backlinks. Some have tried human sacrifice but to no avail.
But Google has a rather choosey palate; it doesn't want just any old backlink. It only wants high-quality links, which come in a couple of different flavors.
There are two primary types of backlinks:

Follow- this helps your search engine rankings as these links send page authority.
Nofollow- this does not help your search engine rankings as these links do not send page authority.
Then there are the toxic backlinks. The ones your Mumma warned you about. Rough, dirty, sleazy, and hanging around in the worst places on the web.  These come from sites such as adult entertainment, link farms, and gambling. We do not want these.
Think of these three types of backlinks as a traffic light.


One of the best means of securing a pole position in SEO rankings is to ensure lots of healthy and delicious follow links. But how?

How do you get backlinks?


Well, now we know the importance of quality links to our SEO endeavors, how exactly do we obtain them? Excellent question.
Thankfully, there are a lot of methods to secure these much-wanted backlinks. All of which can be used in a successful link-building campaign.
The most obvious means is to write engaging, well-written, and informative content. Creating amazing infographics or visuals, publishing data-filled studies with lots of statistics, and making in-depth guides will make you stand out as a necessary resource.  This will automatically encourage more natural backlinking by bloggers on your topic with a need to share your work.
But of course, the other crucial ingredient is promoting this material to your target audience. You need to do this with a fantastic content promotion plan full of innovative means of distribution.
An incredible outreach campaign is one of the most effective means to find new links. Sending an influencer or industry expert an outreach email asking for a collaboration, product review, or a guest blog that mentions your company is a fantastic opportunity to build the best kind of reputable backlinks.
There are countless other means to acquire backlinks, and here are a select few:
Internal backlinks to the other web pages of your website.
Resource pages are directories of helpful resources on a selected topic. They are constantly looking to add valuable, new links.
Utilize your resources. Ask any communities, clubs, or organizations you are a part of to backlink you.
If you stock any products, contact the owners of these products and ask them to backlink you as a stockist.
Perform a link gap analysis to find the sources of competitors' backlinks and any that are not backlinking you.
Find broken backlinks and create content that will fill that void.
Being a podcast will almost always guarantee a backlink as a form of recognition.
Find somewhere that will take on guest bloggers about your chosen topic.
The skyscraper technique, find a piece of content with a lot of backlinks. Then create an even better one and ask those who backlinked the original to link to your new article.
All of these types of link-building techniques are valid and will produce varying degrees of success. However, most of them need one key ingredient. And that is link-building tools.
The top link-building tools

There are hundreds of link-building tools that can aid you in your quest for the elusive backlink; here is a diverse selection of some of the best around.
1. Hunter.io- the tool that hunts contact information

Watch out!
Hunter.io is on the prowl. The prowl for the tasty contact information of your most wanted backlink opportunities. Yummy.
There is no need to trawl social media and countless web pages for a mere scrap of a clue about the contact info of an influencer or company.
No, Hunter.Io makes this so much easier.
We are owners of a new freshwater fish tank business. I know; let's take a moment to celebrate.

Source

The most respected blogger in the game is Aquarium Co-op. But there is something fishy going on. You can not find a suitable email address for them anywhere.
"Oh well, I can always try another influencer", you sigh "after all, there is plenty more…". I will stop that one there; the fish puns need to end.
But wait, Hunter.io is the answer. Their domain search scours the internet for the best company contact information and delivers it to you in seconds.
Source

But what if you need a specific person? Their email finder works similarly but will locate the emails of professionals instead. Need this done in bulk? Not a problem; provide them with your tailored list and receive the same high-quality contact information back.
Now, is all this contact information valid? Will it lead to potential backlink opportunities, or will my email end up in the inbox of a 'Nigerian Prince'? Meet the email verifier, which can check numerous metrics to ensure the validation of these email addresses.
Hunter.io also has its own free cold email automation software called Campaigns. This free tool creates emails and subsequent follow-ups on your behalf before allowing you to add a dash of personality to them. You can then send these from the comfort of your Gmail or Outlook account.

Become the apex predator of outreach with Hunter.io.
2. Linkody- the tool for beginners

Linkody is sometimes seen as a beginner's SEO tool, especially in the looming shadows of its bigger cousins, Moz link explorer and Ahrefs suite of tools. But as the famous saying goes, don't put baby in the corner. Or, in this case, disregard it as a valuable backlink analysis tool.
Linkody is a backlink tracker, and an incredible one at that, with a multitude of brilliant tools. It can give your business a backlink health check. This is done by creating a backlink profile that looks at the most crucial measurable SEO metrics around, such as

Moz rank
Facebook shares
Trust flow
Citation flow
Number of backlinks
Spam score
Domain authority


Plus, don't forget to generate complete reports on your backlink anchor text and keywords. As with any health checkup, you will want a copy of those results. Not an issue. Linkody allows you to generate a PDF report to show your clients your backlink well-being.
Moreover, Linkody allows you to arm yourself against the harm caused by low-quality backlinks by creating a disavow file to be uploaded to Google.

Most importantly, Linkody allows you to look at your competitor's backlinks from afar. You can search your rival and have an automatic list of their website's backlinks. Are some companies in your competitor's link profile not in your own? Yes. Don't feel down about that. Rejoice.  

Utilize this information to do some link prospecting. Find new backlinks to secure your company some tantalizing link-building opportunities.
Linkody is potentially one of the most criminally undervalued link-building tools around.
Yes, it does what a fair other few tools do. And some do it better; we are looking at you, Ahrefs.  But, it does it well with highly affordable pricing making this the perfect tool for beginners getting to grips with the backlink process.  
3. BuzzStream- the tool that doesn't waste time

So, do you want to create the biggest buzz about your product? Do you want to be the Queen bee of your industry? Well, put away that insecticide and flyswatter, and listen as we look into the all-in-one  BuzzStream.
Buzzstream is a backlink and outreach tool that condenses the strenuous work of an outreach campaign. It breaks itself down into four sections:

Research
Email
Manage
Report

The first stage of the outreach plan is the complex and laborious task of pinpointing who you want to contact. It has to be the right person that fits your brand and audience. There is no point in sending the world's most beloved bird of prey blogger an outreach email about promoting your homemade honey.  No, the birds and the bees do not always mix.
This traditionally involves a Google search for the 'best honey blogger,' which will bring hundreds of SERPs. Then for every viable option, you would need to move them over to a spreadsheet with all the relevant information and evaluate them individually. This is slow and tedious. Very tedious.
BuzzStream makes link prospecting a breeze with the introduction of the chrome extension, BuzzMarker. You can add new contacts to your personalized database with all the relevant metrics already present with one simple click. Sounds like bliss? It gets even better.

If you want this process to be even more automated, then BuzzStream can perform automatic prospecting. Simply enter up to 20 keywords, and it will return a list created from web and news searches.


Source

The next step is deciding on the relevance of each prospective contact. Your workflow is important; with BuzzStream, you can quickly examine each contact's website. Then based on your research, you can either 'approve' or 'reject' them before being automatically navigated to the next website; no need to manually navigate to each site here.

Source

Once you have a finalized list, you can send those outreach emails. Choose from an extensive range of templates or create your own. Add a dash of personalization and then choose a time to send it. You can also fully automate your follow-up emails from here, so you never have to worry about constantly chasing contacts for responses.
Once the email is sent, BuzzStream has an incredible array of  CRM and reporting tools.
These enable you to see exactly how your outreach campaign is progressing. Every facet of your outreach campaign is at your fingertips, from tools that let you see team performance to email effectiveness.
BuzzStream will most certainly put a sting into your link-building strategy with its time-saving prowess and simplification of the whole process. It is time that you find out what all the buzz is about.
4. Ahrefs- the tool that does it all
Hang on because this is a big one.
Ahrefs is the Swiss army knife of content marketing.  It does everything. Hidden within its streamlined outer shell are endless incredible SEO tools that can be activated with a figurative flick of the wrist.
The likes of keywords explorer, a brilliant keyword research tool, and rank tracker are fantastic SEO tools that every content market strategist should have in their back pocket.

However, the site explorer, content explorer, and site audit works wonders for link building.

First of all, wow. Ahrefs claims it is the most powerful backlink checker in the world. We're inclined to agree. This tool is extensive, and we don't have the word count.

To start with, you can view the most critical metrics of any website, including the number of referring domains, backlinks, and domain rating. But there is so much more that can be done with this incredibly powerful tool.

You can find a full report of any website's backlinks. Taking a peak at a competitor's backlink history will give you plenty of ideas for who to send outreach emails to. But not everyone will be a winner.
However, exclusively to Ahrefs, you can view estimated organic traffic to linking pages and referring domains.  So, you can know the hot tickets of backlink opportunities and which leads to follow—guaranteeing that you are chasing a golden goose, not just a duck in glitzy fancy dress.
There is also the broken link checker. This is a fantastic way for companies to check their links' health and ensure they are still functioning.
However, even more importantly, it is a somewhat unintentionally remarkable outreach tool. Unsurprisingly companies want to avoid dead links cluttering up their content. Use this to your advantage.
Find a dead link that focuses on a relevant topic for you.  To do this, use Ahref's content explorer.
Enter your desired topic.
Change the search mode to 'in title.'
Then simply search.
Filter for broken pages only with 20+ referring domains.

These decaying links won't do. So, work on creating a replacement piece of content that will fit the topic. Alternatively, find some of your pre-created content to fill that void.
Finally, it is time to outreach. These broken backlinks are the ultimate icebreaker. Contact the company's webmaster explaining the situation and your brilliant solution.
We have barely scratched the surface of the multi-functional behemoth that is Ahrefs. Its many SEO tools make it the most powerful link-building tool around.
5. Mentioned.ai- the tool that reaches out to influencers

Mentioned is the ultimate tool in an outreach arsenal.
As discussed before, a successful influencer outreach campaign is one of the best means to obtain high-quality backlinks.  A backlink from an influencer or industry expert in your chosen topic is immeasurably valuable.
The issue is outreach can feel so tedious. It is a massive drain of resources and time.
An outreach campaign can feel like attempting to serenade the potential love of your life.
First of all, you need to work your magic. You need to lay the groundwork. Do some research. What are their interests, hobbies, likes, and dislikes? Then try to build a rapport with them online. Get them to notice you, even like you.
Next is the approach. You can't possibly turn up at their door and ask them to be your influencer. That would be weird. It is much better to send an email or slide into their DMs. But what to say? If you write the wrong thing or it doesn't catch their attention, you could blow your one shot to nab that collab.
Rinse and repeat about a hundred times. Fun.
Mentioned is here like a calm breeze of fresh air. It is the ultra-fast automated outreach tool that we all need in our lives. Mentioned scans your content for any names of potentially relevant outreach contacts. Sounds magical? It is.

Mentioned will then commence your outreach campaign. It will send a pre-composed message to all your outreach contacts, telling them they have been mentioned in your content.
Now, this isn't a cold email outreach strategy. No, this is hot. You can add a splash of personalization to this message and target it toward the audience how you see fit,
And, let's be honest for a moment. Who does not love a little bit of praise and recognition? Finding out someone has used your work is a lovely, warm feeling that will encourage you to read, share, or even collaborate with this content maker in the future.

So, we wholeheartedly recommend Mentioned. And when it streamlines your outreach campaign and delivers you the influencer of your dreams. Don't mention it. It was our pleasure.
Other fantastic link-building tools

Conclusion

Hello again. How was your expedition into the wild snow-covered tundra of link-building tools?  

Source

Well, I am sure you have learned a lot.
You learned about what a backlink is, which seems necessary. But also about the different types of links and their effectiveness regarding SEO. What is more, we learned how to acquire these backlinks through many means.
We then delved head-first into the best link-building tools that will aid you in your quest for those elusive backlinks. We looked at tools that ranged from beginner-friendly to expert-focused. And saw how diverse these tools can be. From backlink health checkers to outreach email tools, we covered them all.
Have we managed to scale the SEO mountain yet? No. But we have created a decent base camp for the ascent stocked to the brim with the best link-building tools.
The peak is in sight; grab your tools and get climbing.

What top tips do you have to find the best backlinks? Do you have a favorite link-building tool? Which backlink tool mentioned in our article are you going to try first? Let us know your thoughts in the comments below.

Join the newsletter to receive the latest updates in your inbox.