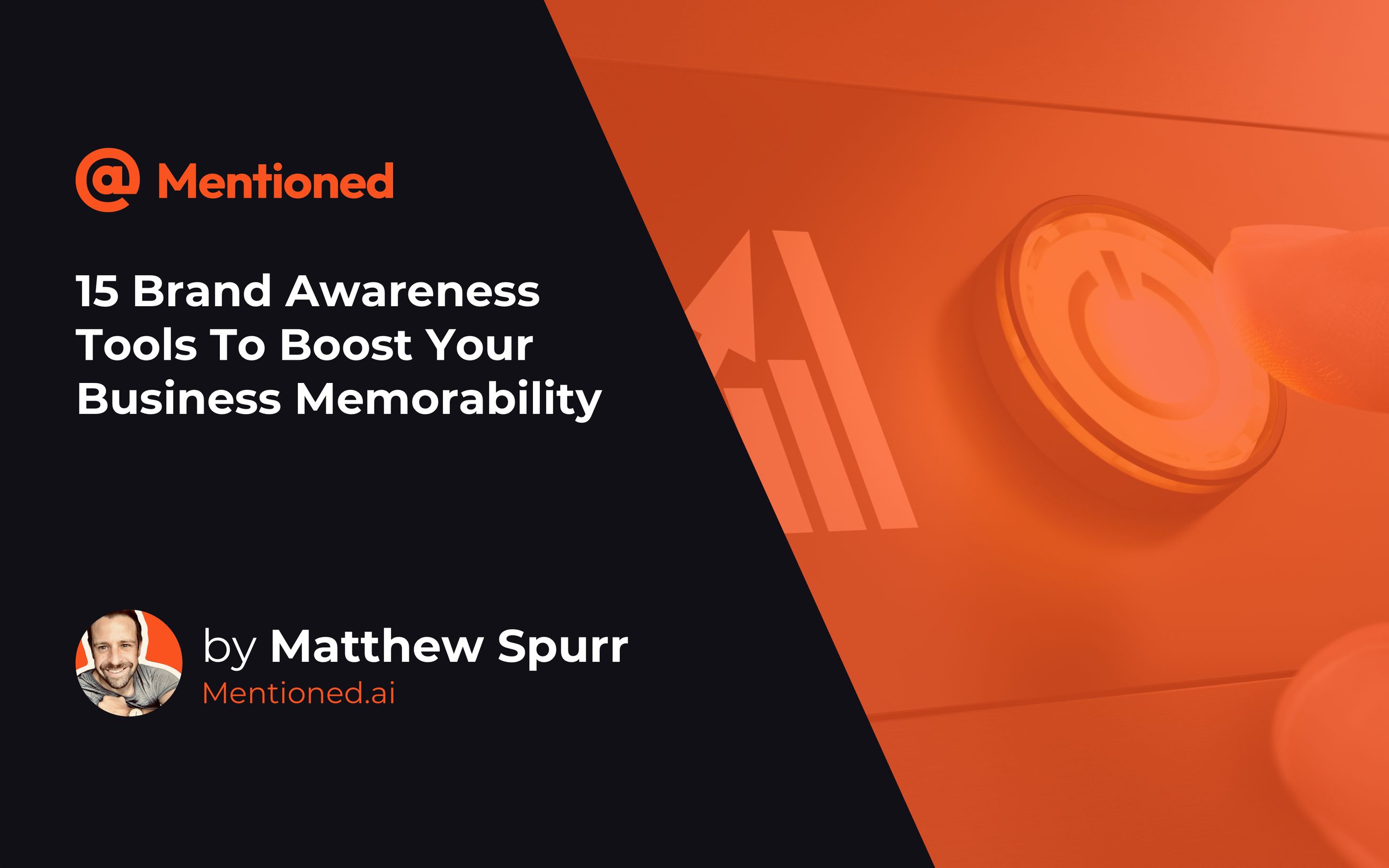 15 Brand Awareness Tools To Boost Your Business Memorability
If you want to get noticed by your target audience, you need to consider how memorable your branding is. Here are 15 brand awareness tools you can use to boost your business memorability.
Your brand awareness should always be at the forefront of your mind. This is especially the case for new and smaller businesses that have a lot of competition in the marketplace.

In short, brand awareness is memorability. Is your target audience familiar with you? How would they rank you amongst your key competitors? Do they recognize your name, your logo, or your core values? Do they know what products or services you offer?

If your answer to any of these questions is no, then it's time to work on boosting your branding marketing strategy.

Brand awareness is one of the first hurdles you have to leap when establishing yourself in the marketplace. Without it, you won't have any foundation upon which to build something better. It doesn't matter if your ideas and products are fully fleshed out if no one knows about you.

So how do you resolve this issue? How do you make yourself known?

Well, there are many tools and techniques you need to implement to build and measure brand awareness. Here, we've compiled 15 of the most important ones we can think of that you can adopt into your content strategy and make your business one to remember.

Make Compelling Content
If you want people to be aware of your brand, you need something that's going to grab attention when someone looks at it. Finding a consistent, eye-catching style that people will see and recognize time after time will greatly improve your brand awareness. Then you need to make sure your content itself is top-notch. Here are just a couple of tools to help get the job done.
For businesses just getting their feet off the ground, you don't always have a lot of money to spare. Free online tools such as Canva can give you a boost in the market if you've got a little creative insight to put behind it.

Canva offers templates and designs that you can use to create posters, infographics, and advertisements. And there are also specifically tailored templates ready for immediate use on social media websites such as Instagram or Facebook.
Canva allows you to experiment with forms and start building a creative branding strategy for yourself. Consider:

Which fonts or color palettes do you want to be synonymous with your brand?
Are there any visual motifs you wish to incorporate, such as your company logo?
Do you even have a logo in the first place?

Your advertisements will be the first thing most of your potential customers will see. Make sure you connect with your audience: show them what will most interest them. Good knowledge of your consumer base will allow you to create a stronger marketing campaign.

Trust me when I say you do not want a typo in your advertisements. Always check over your work with a writing assistant such as Grammarly or Hemmingway, just to be on the safe side. Otherwise, you end up with embarrassing mistakes like this:

Which, admittedly, are quite funny to look at. But they give quite a bad impression of your brand. A quick check of grammar and spelling will save a lot of grief in the long run.

Sometimes what you need is a bit of bulking on your website to get it started, and get people interested. A good way to do so is to use Frase.

Frase offers various services, one of which is AI content writing. Once you get to grips with how exactly the AI algorithm works, you'll be able to quickly create pretty sizable chunks of text that you can edit and upload. Always make sure to carefully check AI-generated copy, though. You don't want any unfortunate mistakes we mentioned earlier.

It's worth noting that Frase isn't free, with prices starting from $19.99 a month, but it saves time writing your content completely from scratch, and it's cheaper than hiring someone to write it for you.

Social Media is Your Friend
In an age of hyper-connectivity, news travels fast. One surefire way to increase your brand awareness and overall website traffic is to take advantage of as many social media platforms as possible.

Social media marketing comes in many forms, such as:

Ads
Collaborations with other companies
Influencer marketing - e.g. product reviews
Help forums
Dedicated social media pages for your brand (Twitter, Facebook, Instagram, LinkedIn, etc.)

However, there are also dedicated tools that focus specifically on managing and monitoring your social media presence to optimize your content and keep an eye out for those essential brand mentions.

When it comes to identifying links and people that will help boost brand awareness, BuzzSumo is one of the best. They have four key sections you can use:

Discovery - which topics are trending? What are people looking for?
Research - this includes a database of 5 billion articles for you to analyze
Influencers - who will share your content?
Monitoring - are people leaving comments? How are your competitors doing?

Their influencers section lets you analyze content relating to your business and see which people shared these posts the most 2-3 days after the article was first published. This lets you see who has their finger on the pulse, and who is most likely to share your content in the same way.

Additionally, their monitoring feature means you can stay on top of your brand awareness campaign by interacting with your consumer base. See who is leaving comments, what the overall impression of your brand is, and track your popularity over time.

BuzzSumo is also available as a browser extension for Google Chrome, which can save you valuable time when it comes to researching.

You can start with a free plan, which gives you access to ten searches a month. However, if you want to do any more than that, then the pricing jumps from between $99 - $299 per month.
The fantastic thing about Google is that it's completely free to use. With Google Alerts, you type in several search terms that you wish to be notified about - for example, mentions of your company, new keywords, etc. Google will then email you whenever it identifies one of these search queries so you can keep track of your outreach.
True to its name, Brandwatch is a social listening tool that keeps an eye out for your business by tracking developing trends and topics. Their social media management also acts as public relations control, meaning you stay on top of current events and avoid any problematic issues. For example, their algorithm scans across Twitter to measure instances of your brand's name used alongside negatively trending hashtags to monitor sentiment.


You can also create content calendars that allow you to work effectively across all of your platforms and coordinate your social media posts. A vital part of digital marketing is consistency. Automation of your content means that you can save time with small, finicky parts of your content marketing, and focus on larger, more important projects.

Often referred to as a brand 'for the experienced social media marketer', Sprout Social offers the most for the most. It aims to increase brand awareness through real-time updates, specific and analytical algorithms, multi-media posting options, and URL tracking.
Currently, they operate with five main features:

Engagement - this monitors and streamlines your socials using a single inbox
Publishing and Scheduling - to make sure you remain consistent and operating at a high quality
Analytics - which gives you access to social data and metrics to aid in decision making
Listening - keep on top of trends and relevant social conversations
Employee Advocacy - work with your employees so they actively advocate for your brand

You can request a personalized demo and have their services tailored to the needs of your business, or dive headfirst into their subscription plans. If you have any doubts, their extensive range of customer stories (collated from a wide variety of brands such as Tui, Casio and Chicago Bulls) offer additional insight into what to expect.
If you're looking for a way of taking the pressure off of organizing your social media channels, Hootsuite will manage your accounts and their post schedules so you don't have to. It's probably one of the oldest services on this list, first formed in 2008. But the fact that they've been around for so long and are still going strong is indication enough of their quality and ability to adapt with the times.

Hootsuite offers free classes for beginners, with additional courses, webinars, blog posts, and events to get your business going. Then, after a 30 day free trial, you can choose from a number of plans depending on the size of your business. The cheapest is $39 a month, with access to one user across ten social accounts.

Improve Your SEO
An excellent way of boosting brand awareness (and helping out your business in the long run) is to get your website to the top of the search engine results page. Improving your Search Engine Optimization means making use of keywords that your competitors are using, or finding new niches in the market to grow and expand in.

There are a plethora of online tools available to help with your SEO metrics, but here are a few of our top picks.
Semrush consistently finds itself at the top of bloggers' SEO lists due to its wide range of services and high-performance results. Their keyword tool draws from a database of over 20 billion words and phrases to help you find exactly what you're looking for. They also find gaps or overlaps in your keyword market to show you how closely you relate to or exceed your main competition.
Initially, Semrush is a free software, but there is the option for a paid plan as your business expands, or if you want to access some more of their features. Their lowest price is $119.95 per month. Certainly an investment, but it's for you to decide whether or not that's what your business needs.

If you want to paint a picture of who your audience is, Google Analytics has you covered. For businesses that have a comfortable consumer base but are looking to expand to new audiences, it's useful to know who you need to target.

Google Analytics offers information about your website and the people who use it, where they come from in the world, and how long they stay on your site for. It makes use of the Google search engine to anonymously track what people are interested in, what device they are using (mobile, laptop, computer, etc.), as well as which parts of your site are they most interested in when they arrive.

Moz's Keyword Explorer ranks the keywords you use and offers a priority score to make sure you're optimizing your content correctly. They have one of the largest data banks available for SEO customers which are frequently updated to keep you on top of trends.

Moz offers a selection of free tools for businesses to use, including (to name a few) link explorers, domain analysis, and access to information about your online presence. Then, if you're looking to go further than the free access allows, their monthly plans start from as low as $14.
An often overlooked but very important part of building brand awareness is by getting fellow brands on board and backlinking to you in their own content. The more people link to you, the more your brand recognition increases. Before this can happen, you need to make sure that your site is waterproof.

One way to check everything over and monitor those instances of backlinking is by using Ahrefs. They let you audit your site and check your space against a checklist of 100 potential flaws, which they then present in nifty pie charts and spreadsheets.

You can then check out how your competition is doing by "reverse-engineering" their websites and discover the secrets behind why they are doing so well. This way, you can refocus your marketing efforts and implement new strategies to get ahead.


Gather Feedback
Your brand awareness strategy should have a segment dedicated to listening to and taking feedback from your target audience. This is how you know where you're falling behind on, and what you can do to improve.

Analytics tools can be wonderful in helping you track how your content is doing when it comes to algorithms, but you should always take the time to hear directly from your consumer base. Brand perception surveys are a quick and easy way of getting feedback from your audience.

Simple, clean, and effective. Google Forms isn't really anything to write home about, but it's nothing to scoff at either. Easy to use, quick to set up, and completely free, Forms is a good way to start if you don't know how to go about making complicated surveys.

You can minimally customize your survey from a selection of colors, or by including your logo, and then send it off via email or social media. You have the option to close the survey at any time or leave it open for continued feedback reception.
There are generally good reviews when it comes to SurveyMonkey, but their free version does have some rather tight restrictions such as a limited number of devices you can operate it from. However, those who paid the full price say that it is an invaluable marketing tool that succinctly displays your questionnaire's responses.

Additionally, SurveyMonkey is incredibly adaptable with emails and can be sent across wide mailing lists to reach as many people as possible - perfect for growing brands with expanding user bases.

Email surveys
Never underestimate the value of email marketing. It's quite easy to create compelling emails without being obnoxious or spamming your customers. And a gentle prompt every now and then to take a survey helps track how satisfied your audience is.

There are many templates that you can choose from. Or you can link to a SurveyMonkey or Google Forms survey, which makes it easier to collect all your data in one place.


To Conclude…
There are, of course, many other tools available to choose from. It's all about shopping around and finding what works best for you. Your social networks should be an extension of your brand itself. Brand awareness comes from authenticity and being able to build trust. Work on delivering polished, catered advertisements that promote the best parts of your business whilst staying true to your core values.

It might be worth reading around the subject and seeing what more information you can garner from industry experts such as Michael Johnson, author of Branding: In Five and a Half Steps. It's always a good idea to set realistic expectations and lay a strong foundation of knowledge before jumping into things.

But let us know if there are any tools your mind immediately jumps to when discussing branding awareness. Do you have any tips or tricks we should know about that we have missed here? Stay connected and let us know!
Join the newsletter to receive the latest updates in your inbox.